Climb to the Port de Pailhères (from Ax-les-Thermes)
Touring cyclist
at Ax-les-Thermes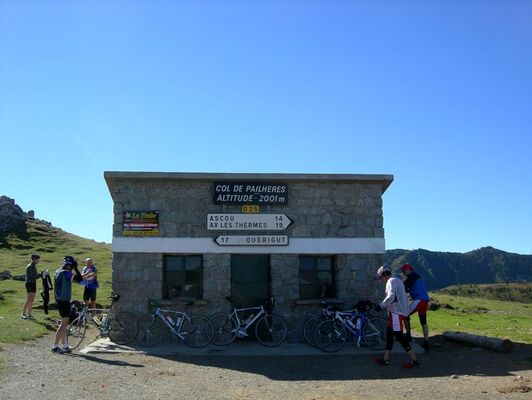 wikipedia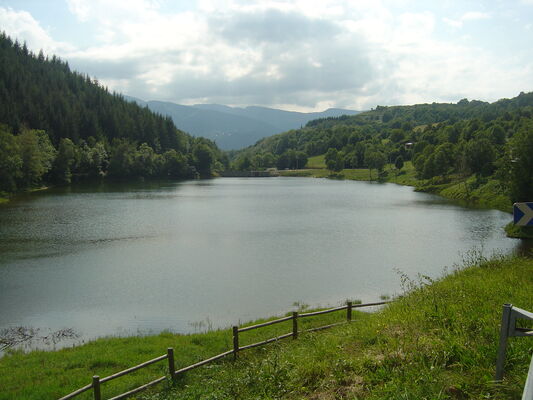 Wikipedia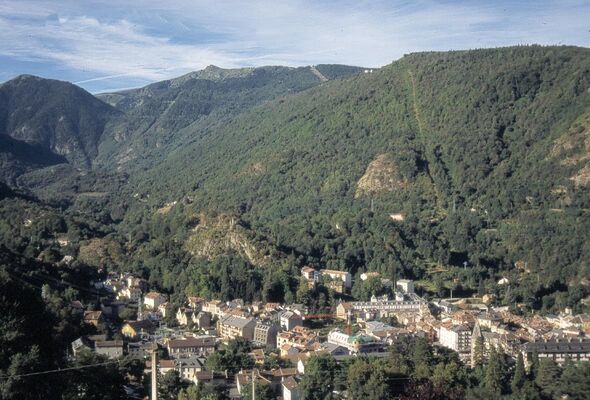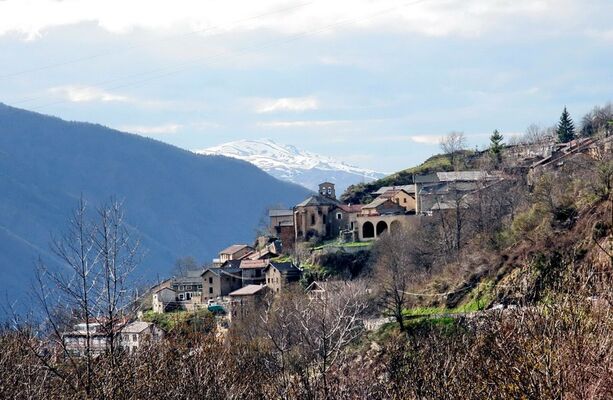 Although it was discovered quite late by cycling races, the Port de Pailhères quickly became an unmissable place for every cycling lovers. The top of the climb is located at 19 kilometers from Ax-les-Thermes, and even though no cycling races ever climbed the Port de Pailheres on this side, the ascent remains prestigious and the landscapes are beautiful.

Although it is less famous than its oriental side, the climb of the Port de Pailhères from Ax-les-Thermes remains a well-considered ascent that every climber will be delighted to add to its palmares. It is through that road that you can access the ski resort of Ascou. The familial and cheerful style of this resort allows ski lovers to enjoy some good times, whether there are experienced or begginers !

As for the climb itself, the average slope is 6,9%, a percentage that is ease by the 2 kilometers flat part towards the village of Ascou. Otherwise, the slope varies between 7% et 10%, the more we climb towards the top, the more the slope is intensed. At the top at 2001m of altitude, it is difficult not to be impressed by the views on the Pic du Tarbésou, Madres mountains and the hairpins of the oriental side of the Port de Pailhères that cyclists who have the climbing spirit will enjoy to discover !

Difference in height

1419.75 m

Documentation

GPX / KML files allow you to export the trail of your hike to your GPS (or other navigation tool)
Points of interest
The first 3,5 kilometers (2,1 mi) of the climb are the same as the Col du Chioula. The slope is quite regular as it remains between 6% et 7% until the village of Ascou
Once you get to Ascou, the slope soften a bit, 5% on 2km (1,2 mi). Then the big chainring can even be put back near the Goulours lake. This is where the road is in false flat for 1,5 km (0,9 mi). The picnic tables will allow cyclists to have a little break near the water.
3
KM 7,2 : Bifurcation avec le Col du Pradel
A few meters after the junction after the road towards the Col du Pradel, the road goes up again. On 3km (1,8 mi) the slope won't go under 7%, and they will reach 9,5%. Once those 3 km gone, one last break is given to the cyclist with 1,8km (1,1 mi) where the slope remains around 4%.
4
KM 13 : Station d'Ascou
Dès que la station d'Ascou est en vue, c'est le début de la partie finale du col, la plus difficile. En effet les 5 derniers kilomètres sont exigeants, avec une pente qui oscille entre 8% et 10%, vers le sommet on retrouve même des passages à 12%.

As soon as the ski resort of Ascou is on sight, you reach the final part of the pass, the hardest one. In deed, the last 5 km (3,1 mi) are demanding as the slope fluctuate between 8% and 10%, towards the top there are even some parts that goes up to 12%.
Après 5 kilomètres difficile depuis la station d'Ascou, le sommet est le bienvenu. Le panorama est particulièrement beau, notamment sur le Pic du Tarbésou dont le sentier de randonnée menant à son sommet commence précisément au Port de Pailhères.

After 5 tough kilometers (3,1 mi) from Ascou ski resort, the top of the climb is welcome. The point of view is particularly beautiful, especially on the Pic de Tarbésou. The track to get to that peak starts from the Port de Pailhères.
1420 meters of difference in height

Start altitude :

732 m

End altitude :

1999 m

Maximum altitude :

2000 m

Minimum altitude :

732 m

Total positive elevation :

1420 m

Total negative elevation :

-152 m

Max positive elevation :

119 m

Min positive elevation :

-30 m
wikipedia
Wikipedia
Leave a review about Climb To The Port De Pailhères (From Ax-Les-Thermes) :
Bad

Average

Good

Very good

Excellent
There is no review about Climb To The Port De Pailhères (From Ax-Les-Thermes), be the first to leave one !