Bésines Pond
Walks and hikes
at L' Hospitalet-près-l'Andorre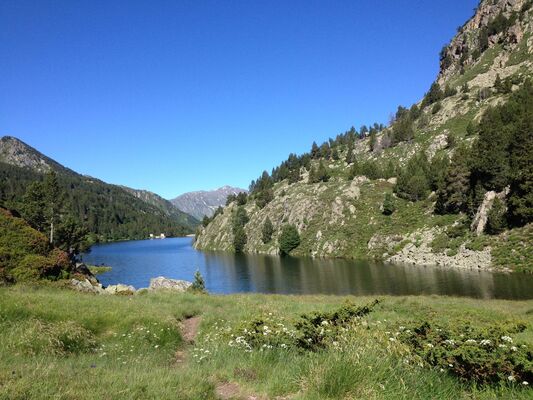 CP Camping le Malazéou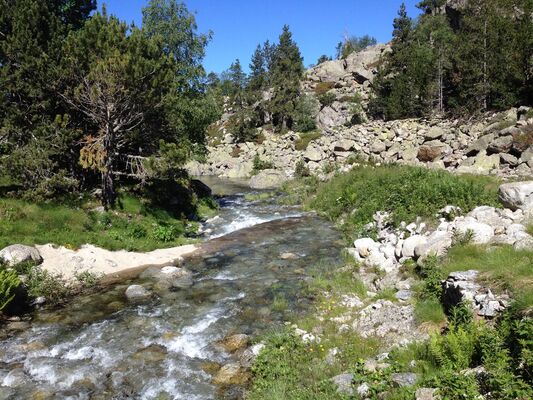 CP Camping le Malazéou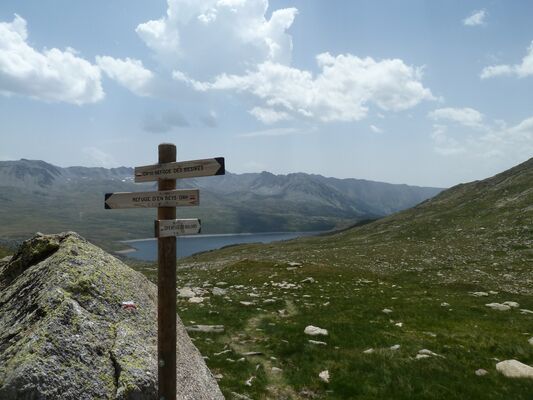 CP Olivier Chabrel
The hike towards the Besines Pond is really singular thanks to the beauty of its landscapes and also thanks to its fauna and flore. It is an important place for people who loves fishing, and the pond is in the shade given by the mountain pines. As far as fauna goes, with a bit of curiosity it is possible to find some marmots holes, you may even hear their whistling !

0h00 - CAR PARK (1400 m). Go into the village through the main street, on the corner of the town hall. Pass in front of the cottage then turn left and reach the long hiking trail called the GR107 that goes up and ends on the road called RN22 that you cross and then follow on the right. After approximately 50 meters, take the path that goes up on the bank. After two hairpins, the path raises up slowly on the mountains towards the north-east.

0h45 - FIRST JUNCTION (1600 m). Ignore the GR107 that goes toward the Col de Puymorens and go straight into its alternative path. The trail goes out of the wood and then it weaves in and out in the middle of the rhododendron flowers of the Bessateil area. Then it goes under the trees again and it climbs up more severely.

1h55 - Platform (1935 m). Follow on the left the platform of an old railway which was used for the building of the Bésines dam.

2h10 - Bésines Dam (1980 m). Go and stay along the lake on the right.

2h30 - JASSE DU PLA (2000 m). The way back is on the same itinerary (it lasts 2h15). From the "Jasse du Pla", you can also reach the Besines refuge in 30 minutes.

Difference in height

770.09 m

Documentation

GPX / KML files allow you to export the trail of your hike to your GPS (or other navigation tool)
Points of interest
While quietly walking in the mountains, ideally in the morning, you may have the pleasure of observing this playful little animal that trots about on grassy slopes and which might watch you with suspicion in an unshakeable way. Marmots have non-restrictive ecological requirements as it only needs a loose soil to dig its hole in an area exposed to the sunshine and which is near a pasture quite dense. It uses the water that comes from plants and from the dew, it is fully sufficient. The marmot has many features that shows that it easily adapt istelf to the life underground : chunky bodies, short limbs, , huge incisors, long nails, touch-sensitive hairs. Marmots are definitely a burrowing animal. In fact, marmots love to dig and its summer spot are full of unfinished tunnels.
After young marmots have reach there maturity, the holes quickly become impersonal, and a marmot in panic throw itself into the first hole it founds. Each vital domain is composed firstly with a main system where marmots stay most of the time, and secondly with a peripheral sector used for the search of food and equipped with escape routes.
Marmots love social life (mutual grooming, games) and it can unite themselves against an assaillant. When a marmot senses an unusual fact, it whistle. If the danger is kept away, the whistle is repeated several times and it is rreproduced by all the others. However, if an enemy appears suddenly at a short distance, one whistle get the all colony underground. The golden eagle, which is there the number one predator, is notified by marmots with a very strident cry of panic.
770 meters of difference in height

Start altitude :

1471 m

End altitude :

2107 m

Maximum altitude :

2107 m

Minimum altitude :

1471 m

Total positive elevation :

770 m

Total negative elevation :

-134 m

Max positive elevation :

118 m

Min positive elevation :

-61 m
CP Camping le Malazéou
CP Camping le Malazéou

CP Olivier Chabrel
Leave a review about Bésines Pond :
Bad

Average

Good

Very good

Excellent
There is no review about Bésines Pond, be the first to leave one !