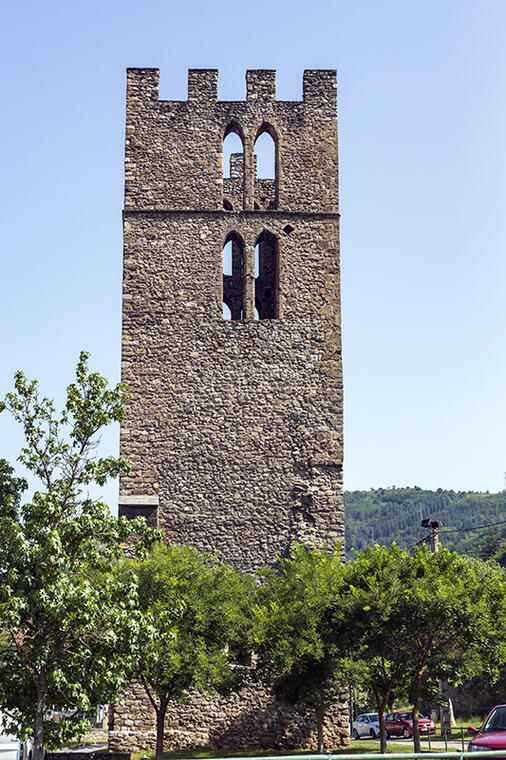 The Spades Tour
Walks and hikes
at Tarascon-sur-Ariège
This route starting from the old town of Tarascon creates a loop around The spade dominating at 1045m east of the Tarascon basin. The path unearths between the woods the medieval chapel of Arnave and strolls in the valley of Ussat ...

Access: Join the old town of Tarascon, high part of the city. The car park at the foot of the very square Tour Saint Michel marks your point of departure.

(D / A) From the Saint Michel Tower (490m) go down 60m rue des Remparts south towards Mazel Vieil. On the left, the path sneaks between the houses. You head east in the forest of Bessède. After 30 'the path of the Bassede life left in a pleasant oak grove with boxwood and the slope softens. A flat and a short descent on 30m and the path goes uphill.

1:00 - COLE DE BAZECH (810m). The path crosses the bifurcation of the road from Roujéro to Bompas (795m) and goes up a little bordering on the right the big pines. After the descent a ruin that warns you of the proximity of the chapel.

1:25 - CHAPEL OF ARNAVE (722m). Take the path back to the south. 100m after the Orri de Pédissol, a bifurcation on the right takes you to a beautiful beech forest dotted with boxwood from which you come out after a few sharp laces.

2:10 - USSAT COLL (859m). True crossroads of 3 valleys with possibilities of variants on Cazenave, Ussat and Ornolac. Choose Ussat on which you with a bird's eye view. Follow the trail down to the meadows and orchards of Lauzinal (694m). Then on the grassy track, win Ussat from Above. Now you continue your way on the road. You reach the center of the village (2:50). By the road D723, you go down to Tarascon where you reach by the Meadow Lombard. Then follow the D723 which goes up a one-way road to the old town.

3:40 - A - You arrive right on the door of Spain and join Saint Michel Tower.

Difference in height

655.41 m

Documentation

GPX / KML files allow you to export the trail of your hike to your GPS (or other navigation tool)
Points of interest
The Saint-Michel Tower. From the original Saint-Michel church, the nave has disappeared and only the steeple remains (today Saint-Michel tower) which was part of the fortifications.
Saint Paul of Arnave is a chapel probably of the X ° or XI ° century, located at 800 meters of altitude. Relatively well preserved, this Romanesque chapel, which is certainly the oldest in the region, is today experiencing a serious weakening of its structure.

Within it, his choir is a marvel of primitive Romanesque art. A bust of St. Paul, dating from the sixteenth century, belongs to him and was restored in 2015 to be exposed in the church of St. Peter Arnave safely. The chapel and its reliquary bust are therefore a treasure of our cultural heritage that the local population has always been able to preserve and enhance. In addition, the originality of this monument, on an unusual site, half an hour walk from the village, gives a mysterious character especially favoring the meditation. The beauty of this chapel and the serenity it gives rise compel visitors to respect it naturally.
The Collar Pass of Ussat includes 3 valleys among which Caznave, Ussat and Ornolac.
655 meters of difference in height

Start altitude :

510 m

End altitude :

510 m

Maximum altitude :

841 m

Minimum altitude :

482 m

Total positive elevation :

655 m

Total negative elevation :

-655 m

Max positive elevation :

199 m

Min positive elevation :

-196 m
Leave a review about The Spades Tour :
Bad

Average

Good

Very good

Excellent
There is no review about The Spades Tour, be the first to leave one !